University Mark and Shield
Having a clear and consistent visual identity helps build greater recognition for and awareness of our University and our many colleges, campuses, and administrative/academic units. The most important element of our visual identity is our University mark, which is made up of our Nittany Lion shield and logotype.
University Mark and Shield //
Nittany Lion Shield
Since 1907, the Nittany Lion has served as a central figure for Penn State. The Nittany Lion Shrine—sculpted by Heinz Warneke in 1942 as a gift from the class of 1940—is easily the University's most universally known and recognizable image.
Leveraging the Lion, shield, and Penn State blues, the Nittany Lion Shield is a contemporary and forward-looking representation of our visual heritage. The shield works well in both large and small sizes, and it reproduces well in the digital environment.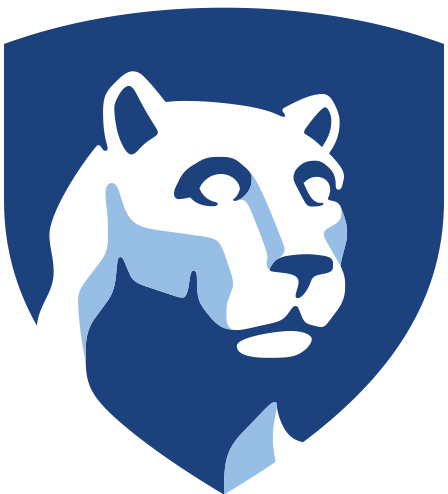 NOTE: Never redraw or try to recreate our shield. Any modification of our shield diminishes its impact and weakens our legal protection. Only authorized artwork may be used.
University Mark and Shield //
Logotype
The name of the University is represented by a text treatment called a logotype, and is one of the core components of our University mark. Our custom-drawn logotype is a clear and strong expression of our name inspired by slab serif typefaces. "Penn" and "State" are together as a single expression, and the use of the capital "P" and "S" ensures legibility. This design provides a useful distinction from the convention of using all capital classic serif typefaces for universities.
NOTE: Never recreate our logotype or use it on its own without the shield.
University Mark and Shield //
University Mark
Our University (or academic) mark is composed of our shield and logotype and is Penn State's institutional logo representing the University in its entirety. The mark is used to identify everything we communicate through our website, print communications, presentations, social media sites, and signs.
The two-color mark shown here is the preferred color version and should be used wherever possible. In our visual identity architecture, this mark is referred to as the primary horizontal mark.
At Penn State, we refer to the academic mark as "our" mark. Our mark is comprised of the shield and logotype.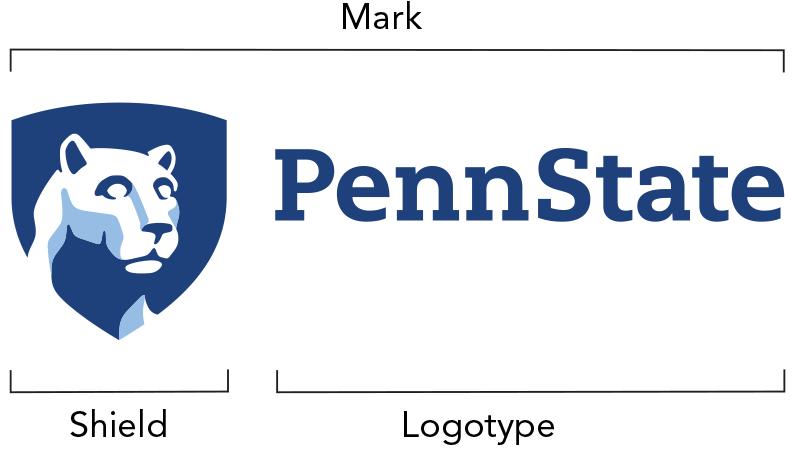 NOTE: Never redraw or try to recreate our mark, including our shield or our logotype. Any modification of our mark diminishes its impact and weakens our legal protection. Only authorized artwork may be used.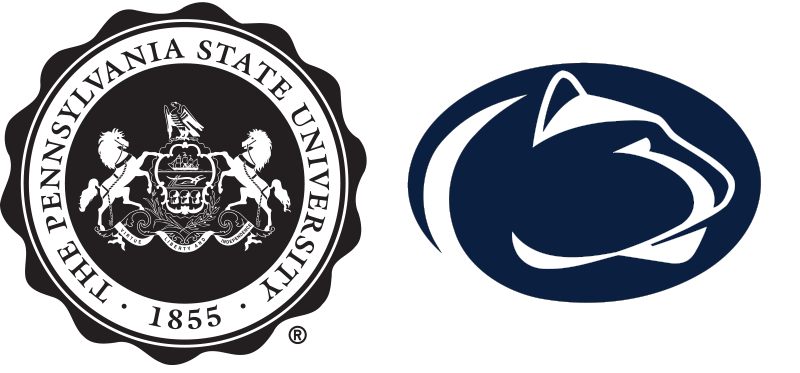 The mark does not replace the University seal or the Intercollegiate Athletics logo; they will continue to be used as they are currently permitted as described in the section entitled Other University Symbols.
Vertical Marks
We have two vertical or centered marks. There are situations where a formal center axis design or narrow vertical space restrictions may require the use of a vertical mark. There are other situations where the mark is used alone on such an application as a folder cover, sweatshirt, or cap. In these cases, a vertical mark may be more effective.
The entity marks for our campus, college, and administrative/academic units do not have vertical marks. These marks should not be reconfigured as vertical marks.
NOTE: When placing copy or titles near a vertical mark, be sure to leave the required clear space around the mark. Visit the Mark Sizing and Placement page for more information.
Vertical Mark 1

In the horizontal mark and vertical mark 1, the size relationship between the shield and the logotype are the same.
Vertical Mark 2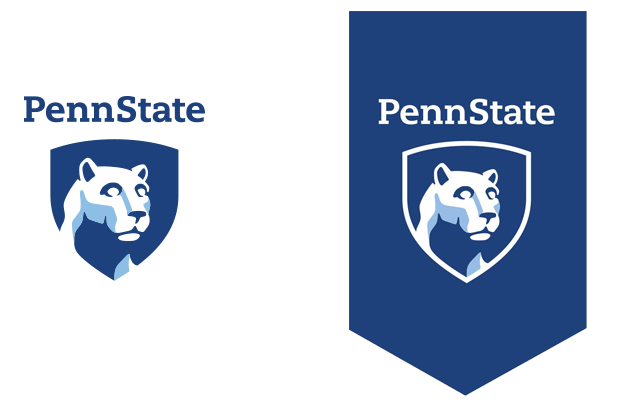 On our vertical mark 2, the logotype is smaller and above our shield. This allows for a larger, more powerful use of the shield. This version is very effective on some products and merchandise. This mark also can be useful when the width is restricted, as in a banner.
University Mark and Shield //
Shield Alone
In general, the shield should not be used without the logotype. However, for certain merchandise, such as a pin, the use of the shield alone is appropriate. For units who wish to have a pin with their unit's name included, a special pin template has been designed that preserves the shield's visual integrity. For more information, contact the Office of Strategic Communications at pennstatebrand@psu.edu.
Shield for Use Alone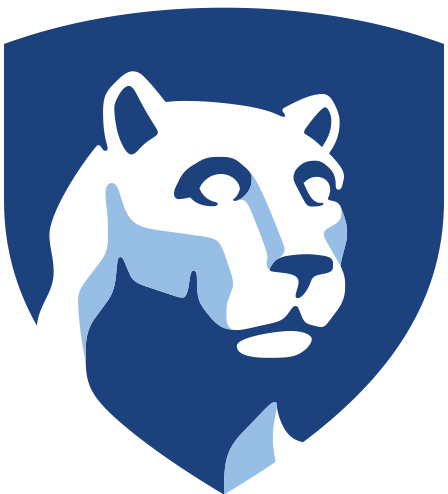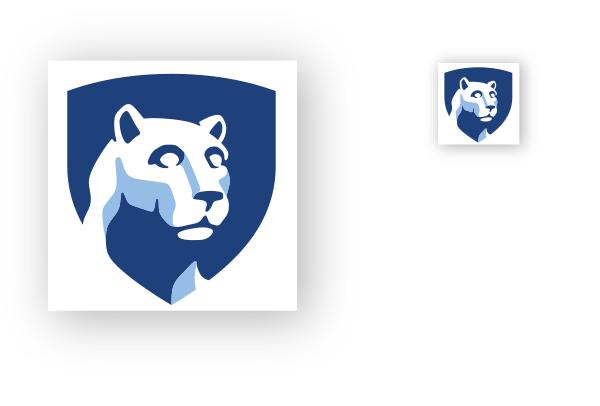 The shield also is used alone as our social media avatar (see below). Although our logotype is not used in these applications, our name does appear in close proximity.
Important Reminders When Using the Shield Alone
A full mark must appear on the same surface when using the shield alone.

Do not visually attach unapproved text or artwork to the shield.

Do not incorporate the shield into another graphic element or place inside a "container" shape.
The schematic folder cover (below) demonstrates another opportunity to use the shield alone large as a graphic element. This design approach is only to be used when our full mark appears on the same surface. When using the shield as a graphic element, the artistic effect should not alter the color or prevent the Lion from being recognizable. Any cropping of the shield alone as a graphic element must be minimal, and both eyes and ears must be distinguishable.
Shield Used as Graphic Element with Full Mark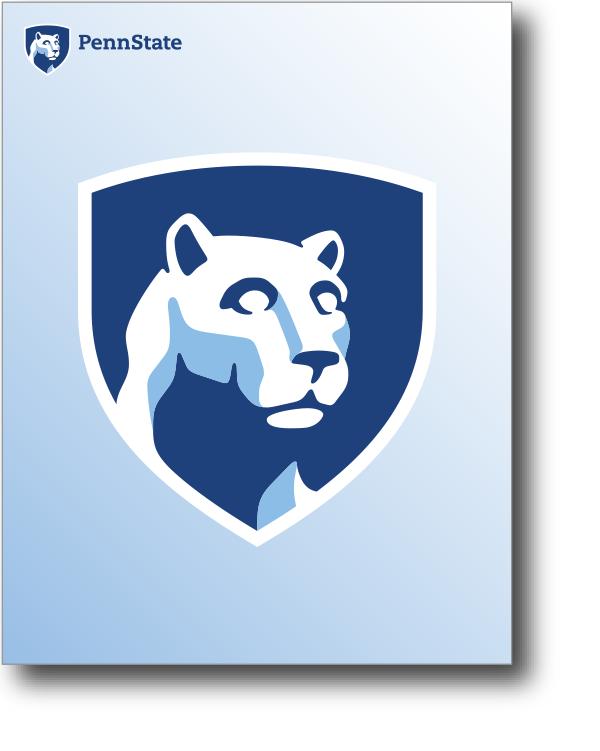 University Mark and Shield //
Product Marks
The special-use marks shown below are used only on our products and merchandise. These items are often seen outside the context of Penn State and use the ® (registration mark) to provide legal protection for our valuable assets. The placement of the ® is always used in conjunction with the Penn State logotype, never with the shield.
When to Use
Trademark designations are required for items that bear the University's mark and are for commercial use. Please contact: licensing@psu.edu for questions related to Penn State merchandise.
Stationery, marketing materials, presentations, signs, and digital applications are not required to, and should not, use marks with ®.
The use of the ® may be used with special-use marks, such as one color without screens.
NOTE: Organizations or individuals external to the University may NOT use Penn State names, marks, or symbols for any promotional or commercial purpose without obtaining permission from the Office of Strategic Communications.
Primary Horizontal Mark with ®

Vertical Mark 1 with ®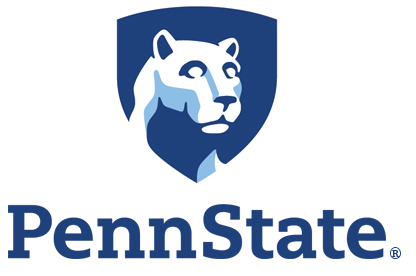 Vertical Mark 2 with ®