Who We Are: Our Brand Framework
What makes Penn State special is sometimes hard to put into words. But defining what makes us different is the first step in further engagement with our audiences. This section will walk you through our brand purpose, brand positioning, tagline, and manifesto. Together, this framework will give you the grounding you need to elevate Penn State in the minds of our stakeholders through consistent and unified branding.
Who We Are: Our Brand Framework //
Pathway to Opportunity
Strategic Communications used a comprehensive process to develop and test language and positioning statements that form the foundation of our brand framework. Anchored by clear objectives and a careful selection of strategic agency partners, we embarked on a research agenda that allowed us to gain deep insights into our stakeholders. In total, more than 5,000 people shared their opinions in our brand surveys, interviews, and focus groups including alumni, voters, prospective students, faculty, staff, and current students.
Phase 1:
On-Campus Immersion
Phase 2:
Quantitative Baseline Research
Phase 3:
Qualitative Positioning Assessment
Brand Framework
Purpose
Bring Positive Impact to Humanity.
Positioning
One Community. Impacting Many.
tagline
We Are Penn State.
Pillars
Openness | Interdisciplinary | Culture of "We"
Who We Are: Our Brand Framework //
Brand Purpose
Our purpose serves as our North Star. It's the reason we exist and the driving force behind everything we do.
Bring Positive Impact to Humanity.
"Penn State's purpose is to bring positive impact to humanity. By opening doors to everyone, creating transformative experiences that few universities can provide, and by making the mission of every Penn Stater to leave the world in a better place than we found it, Penn State stands for doing good around the world."

Who We Are: Our Brand Framework //
Brand Positioning
Our positioning is what sets us apart from the crowd and communicates our value.
One Community. Impacting Many.
There is something special at Penn State that converts the "I" to the "we" and puts us all on a path together—students, faculty, staff, and alumni—to create meaningful impact in Pennsylvania and beyond. It's important that we recognize individuality but show that we are stronger and better together. It's what unites all of us and connects Penn Staters anywhere in the world. We're not just a university, we're a community driven to make a difference.
"Using qualitative and quantitative methodologies as well as advanced analytics, we broke down the defining aspects of Penn State into its individual components. In building those insights back up into a larger brand identity, we uncovered one theme that was consistently at the heart of Penn State—the impact of the Penn State community."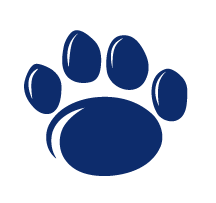 Focus group testing showed that COMMUNITY allows us to speak from a place of strength and authenticity while unifying our diverse audiences. The other positionings tested looked at other aspects of the University—academic research, openness and opportunity, and the Penn State shared experience. By communicating and demonstrating the impact that comes from our collective efforts, we elevate our core strengths, stay true to who we are, and begin to transform the way our audiences/stakeholders think, talk about, and interact with Penn State.

Who We Are: Our Brand Framework //
Brand Pillars
Our three pillars are the themes behind all our stories. Looking at your communications through these lenses can help create consistency and shape the way you express our core principles.
Beyond an association with THON and academic research, external audiences displayed little specific knowledge of our research strengths and impact in their communities. These pillars are defining, powerful in combination, and effective anchors for storytelling.
Openness
For anyone with the willingness to put in hard work, Penn State's doors are open to you. Penn State's world-class faculty is available to you. Penn State's state-of-the-art facilities are at your disposal.
Interdisciplinary
At Penn State, we think that ideas and solutions come from bringing in a multitude of perspectives. Cross-discipline interactions are essential components to fostering new paths to ideation.
Culture of "We"
Our land grant is our reason for being. Our individual passions are met with collaboration, culminating in a culture that is rooted in supporting and inspiring each other, from our classrooms to the world.

Who We Are: Our Brand Framework //
Brand Tagline
This section describes when and how to use "We are Penn State" as an effective and consistent branding device.
We Are Penn State.
From the original story about what it means to be a team, humility, and all-for-oneness, we get We are Penn State.
From there it grew. The common collegiate experience we all feel together aligns us under "We."
The shared desire to impact those in our communities and beyond aligns us under "We."
The community that all understands that hard work, humility, and humanity is a shared ideal aligns us under "We."
And in the most natural way, without hyperbole, guile, or bravado, we can simply state that if you share these same ideals then you can say We are Penn State.
Brand surveys show that the phrase "We are Penn State" evokes a shared experience of family, community, and intense pride that extends beyond athletics. It is a powerful mantra, especially when used to punctuate our communications.

Who We Are: Our Brand Framework //
Brand Manifesto
A manifesto is intended to capture the feeling and spirit of Penn State—to help define what makes us unique and what we hope to achieve. Its exact wording is not intended to be duplicated for external communication.
At Penn State, we have a long list of accomplishments under our belt.
We've discovered planets, we've smashed the atom, we've changed the face of humanity, and we're not done.
But what makes a Penn State accomplishment more than just a chapter in a history book is the motivation and passion of the participants that went into it. It's the shared pride we feel when our fellow students, faculty, staff, and alumni are on the journey. It's the shared satisfaction we feel when they reach that destination. And it's the common understanding that without each and every individual's reason-for-being, none of it matters.
Our inner callings are what inspire us and our peers to be better every day, and they are what brought all of us to Penn State. That humanistic calling is what pushes us beyond ourselves into the world to help others and make something greater.
The "why-we-do-things" is what brings us together to make things happen.
It's where every Penn State story begins. And it's the reason our stories never end.
We are Penn State.