Design Essentials
Our visual identity, colors, fonts, and photography are fundamental to every design. The intentional use of these design essentials will align all our communications in a recognizable and visually consistent way.
Guidelines, file downloads, and other helpful information are available by clicking the download buttons throughout the site. For your convenience, a master download of all design toolkit guidelines and files is available. Before you begin, please read these guidelines carefully.
1
Design Essentials //
Visual Identity
Visual identity is the single most important visual element of our brand. Diligent use of the standards and requirements for our identity cements our brand at every level of our University, maintaining and advancing our brand recognition on a national and global stage.
Please visit the Visual Identity Standards section for more information on using the Penn State academic mark and shield.
2
Design Essentials //
Color
Color is a foundational element in design and a powerful tool when setting a piece's mood and tone. Purposeful selection and application of color in your work can leverage the strength of the Penn State brand and help maintain a cohesive and unified brand identity.
The Pennsylvania Palette is Penn State's primary brand palette, consisting of our signature blues and several accent colors. Additional secondary accent and background palettes are available to give you more flexibility when making color choices. Remember, accent palette colors should be secondary and in support of the signature blues.
Always check the accessibility of the colors in your design—your use of color MUST conform to the web accessibility standards adopted by Penn State. Version 2 of the color guidelines now includes important accessibility information, body text/background combinations, and link colors.
The colors of the Pennsylvania Palette are fundamentally central to the Penn State brand—just as the growth of our university is central to the Commonwealth of Pennsylvania.
The signature brand blues—Nittany Navy, Beaver Blue, and Pennsylvania Sky—are not only tied to our identity; they also reflect the active impact and strong roots Penn Staters have in communities across the Commonwealth.
Slate
HEX:

#314d64

RGB:

49,77,100

CMYK:

84/54/29/28

PMS:

2377
Creek
HEX:

#3EA39E

RGB:

62,163,158

CMYK:

54/0/27/0

PMS:

7472
Limestone
HEX:

#A2AAAD

RGB:

162,170,173

CMYK:

21/11/9/23

PMS:

429
white Out
HEX: #ffffff
RGB: 255,255,255
CMYK: 0/0/0/0
The Penn State Signature Blues
Pennsylvania Sky
HEX:

#009cde

RGB:

0,156,222

CMYK:

85/21/0/0

PMS:

2925
Beaver Blue
HEX:

#1e407c

RGB:

30,64,124

CMYK:

100/76/0/18

PMS:

287
Nittany Navy
HEX:

#001E44

RGB:

4,30,66

CMYK:

100/90/13/68

PMS:

282

The
Classic
Accent Palette
The Classic Palette is grounded in the history and heritage that has shaped Penn State into the university we know today.

Although colors in the Classic Palette lean toward subtle and formal, experimentation with different color combinations can produce various moods and effects.
Land-Grant
HEX:

#6a3028

RGB:

106,48,40

CMYK:

23/78/77/65

PMS:

498
Lion Shrine
HEX:

#B88965

RGB:

184,137,101

CMYK:

8/41/51/20

PMS:

4655
Lion's Roar
HEX:

#bf8226

RGB:

191,130,38

CMYK:

6/35/99/18

PMS:

1245
Penn's Forest
HEX:

#4A7729

RGB:

74,119,41

CMYK:

71/4/100/45

PMS:

364
Pugh Blue
HEX:

#96bee6

RGB:

150,190,230

CMYK:

40/14/0/0

PMS:

284
Stately Atherton
HEX:

#ac8dce

RGB:

172,141,206

CMYK:

29/32/0/0

PMS:

2092
Old Coaly
HEX:

#444444

RGB:

68,68,68

CMYK:

48/29/26/76

PMS:

425
Original 1887
HEX:

#bc204b

RGB:

188,32,75

CMYK:

0/100/45/12

PMS:

7636
The
Vibrant
Accent Palette
The Vibrant Palette celebrates the insights, ideas, and breakthroughs that Penn Staters deliver every day. The colors speak to the ongoing imagination and optimism of the Penn State spirit.
Colors in the Vibrant Palette skew bold and casual on the mood map but are flexible enough to be used in a wide range of communications.
Dawn of Discovery
HEX:

#f2665e

RGB:

242,102,94

CMYK:

0/75/60/0

PMS:

7416
Bright Keystone
HEX:

#FFD100

RGB:

255,209,0

CMYK:

0/9/100/0

PMS:

109
Invent Orange
HEX:

#E98300

RGB:

233,131,0

CMYK:

0/52/100/0

PMS:

144
Future's Calling
HEX:

#99cc00

RGB:

153,204,0

CMYK:

38/0/82/0

PMS:

2291
Green Opportunity
HEX:

#008755

RGB:

0,135,85

CMYK:

97/0/86/15

PMS:

7725
Perpetual Wonder
HEX:

#491d70

RGB:

73,29,112

CMYK:

80/100/1/6

PMS:

3555
Endless Potential
HEX:

#000321

RGB:

0,3,33

CMYK:

100/63/16/78

PMS:

2965C
3
Design Essentials //
Photography
Compelling photography is essential in supporting and strengthening every story we tell. A great photo should evoke a strong emotional response and convey the optimism, authenticity, and activeness of the Penn State character, immersing your audience in your subject's story.
Additional photography guidelines, tips, and tutorials are available for you to use and reference in your storytelling.
3A
Design Essentials // Photography Examples
The collage of images below represents what we aspire to communicate through all brand photography. Through lighting, dynamic composition, and by showing Penn Staters grounded in their environments, these images effectively encapsulate the tone of our brand photography.
As we move toward this goal together, WebDam, our centralized digital asset management system, will continue to evolve and be part of this solution.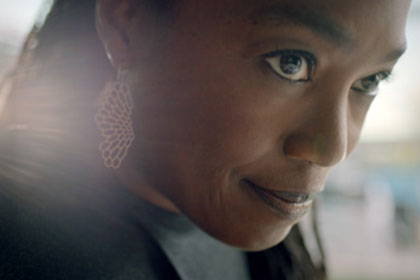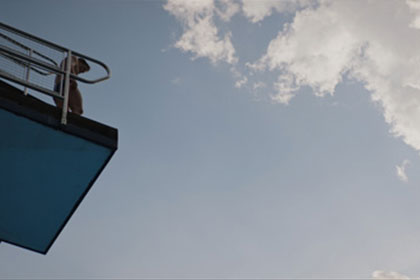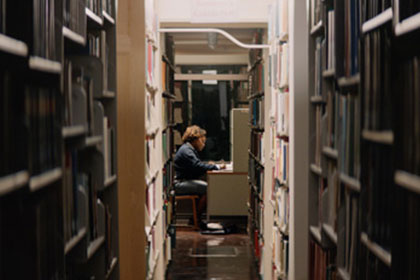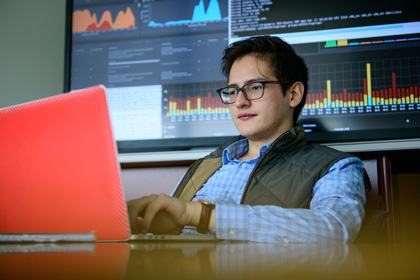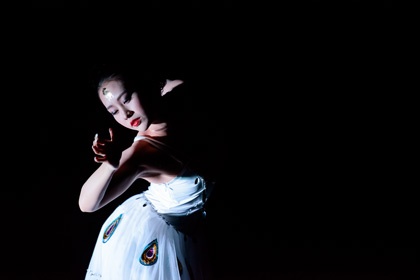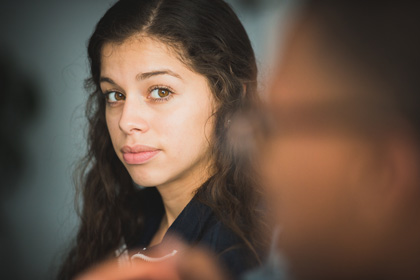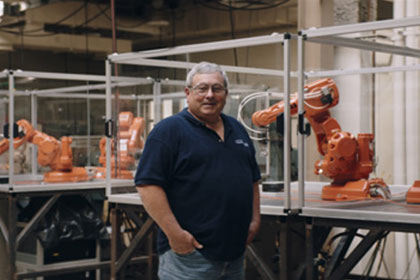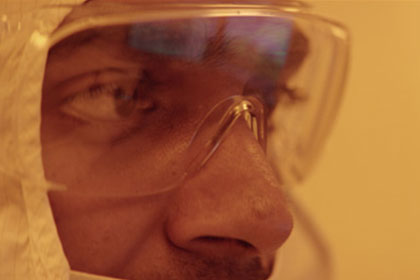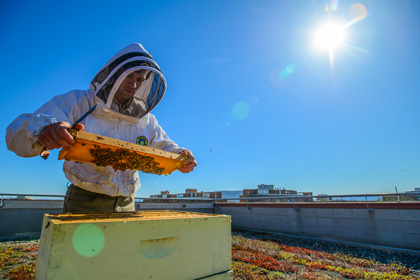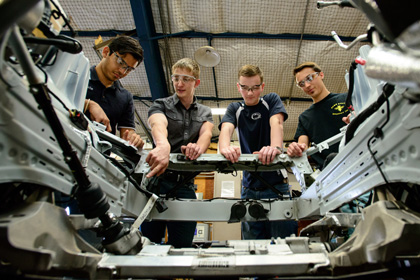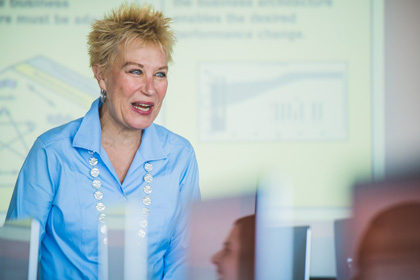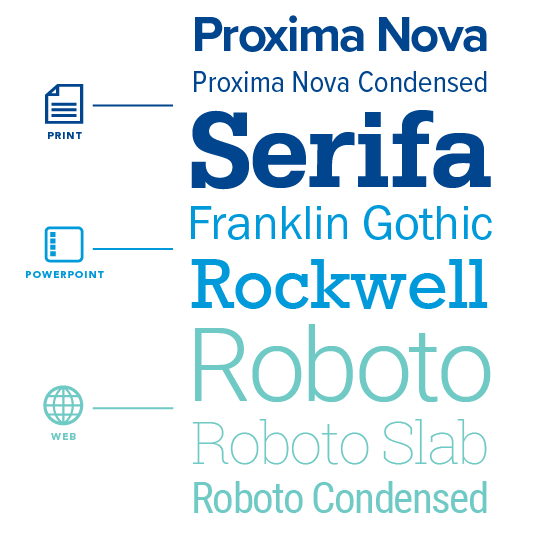 4
Design Essentials //
Fonts
Our brand fonts are essential to aligning your communications with our brand. To ensure consistency across marketing materials, specific fonts are recommended for University communications. Starting in summer 2021, we have shifted to using Adobe Fonts and open type fonts for all Penn State communications. We are adding Proxima Nova and Proxima Nova Condensed to our brand print fonts. We'd like to begin using Proxima Nova as soon as possible, but understand if units need to gradually make the change from Avenir. Note that Adobe will stop supporting PostScript fonts in 2023, so if your copy of Avenir is PostScript, it can no longer be used in Adobe Photoshop and will not be supported by other Adobe applications starting in 2023. We are making a change from Open Sans to the Roboto family of fonts for web use. Roboto also includes Slab and Condensed faces, making it a robust choice for our web sites. Adobe Fonts is available at no additional cost to Penn State students, faculty, and staff through the University's partnership with Adobe Creative Cloud. To get started, learn more about accessing and using our new brand fonts with our downloadable guide.